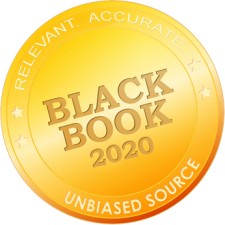 TAMPA, Fla., June 15, 2020 (Newswire.com) - ​Black Book Research announced the top comprehensive information technologies for patient access software and financial services from the collected feedback of 1,768 front end RCM users from 658 hospitals and medical group practices in the annual crowdsourced poll of client experience.
Black Book Market Research LLC measures customer satisfaction across 18 patient-access vendor key performance indicators, of which Accureg received top user scores in ten: strategic alignment of client goals; innovation and optimization; training; client relationships and cultural fit; trust, accountability, transparency, and ethics; breadth of offerings, client types, delivery excellence; deployment and implementation; customization; integration, connectivity and interfaces; scalability, client adaptability, flexible pricing; compensation and employee performance; reliability; brand image and marketing communications; marginal value adds and modules; financial and managerial viability; cybersecurity; support and customer care; and best-of-breed technology and process improvement.
"The increasing impact of denials management and diminishing reimbursements, along with regulatory compliance that is encouraging the use of patient access solutions are the key drivers in the significant market adoption," said Doug Brown, president of Black Book Research. "Patient access technology will also play a key role in helping population health management programs improve outcomes and reduce financial risk."
AccuReg outscored all other patient access vendor competitors in the functional polling subsets of improved denials avoidance, healthcare consumer experience and IT technical support.
The survey methodology and full listing of healthcare organization financial solutions vendor rankings can be found at Black Book's website www.blackbookmarketresearch.com.
About Black Book
Black Book Market Research LLC, its founder, management and staff do not own or hold any financial interest in any of the coding solutions vendors covered and encompassed in the surveys it conducts. Black Book reports the results of the collected satisfaction and client experience rankings in publication and to media before firm notification of rating results and does not solicit survey participation fees, review fees, inclusion or briefing charges, or involve consultant firm collaboration with Black Book before the announcement of the polling outcomes.
Black Book rankings are based on client experience scores obtained from the 660,000 crowdsourced ballots cast and available through mobile apps, web surveys, remote polling instruments, interview calls and on-site trade shows and user groups throughout the year. They represent the opinions of healthcare professionals and clinicians from more than 4,600 hospitals, 600 IDNs, 2,800 clinics, 23,000 physician practices, 250 health plans, and nearly 500,000 healthcare industry consumers, and account for 6,000 products and services from more than 1,700 vendors.
For Black Book vendor satisfaction rating methodology, auditing, resources, comprehensive research and ranking data see www.blackbookmarketresearch.com or contact Research@BlackBookMarketResearch.com.
Source: Black Book Research
Share: