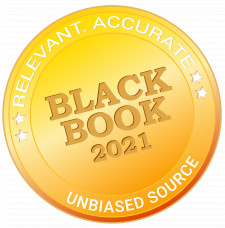 TAMPA, Fla., March 31, 2021 (Newswire.com) - Black Book Research announced that Netsmart has earned the 2021 award for highest customer satisfaction in the annual client experience performance ratings of behavioral health ambulatory EHR competitors.
1,609 psychologists, therapists, social workers, counselors and mental health specialists participated in the crowdsourced survey from December 2020 to March 2021 this year. 224 financial, administrative and information technology professionals also participated in separate non-practitioner polling.
Black Book examined ambulatory behavioral health EHR adoption and usage in the U.S. and found that less than 18 percent of respondents consider their practices and/or organization equipped to electronically engage in care coordination, patient record exchange, or population health initiatives with referral hospitals and physicians in Q1 2021, slightly up from 12 percent in 2019. The growth potential for behavioral health ambulatory technology market is estimated by Black Book to exceed 40 percent by year end 2022, as pending value-based payment reforms require providers to exchange data electronically and coordinate care effectively, and government incentives are under consideration to incentivize mental health technology adoption and connectivity.
"Year after year, we see Netsmart as the top-rated in the mental health tech industry by client users," said Doug Brown, president of Black Book Market Research. "It's clear that, even in a tightening and increasingly complex market, Netsmart is continuing to lead the behavioral health industry by providing a product that is a vital part of their users' workflow, patient coordination, and critical digital capabilities to the successful providers in the value-based care environment."
More on Black Book's study on the State of the Ambulatory Behavioral Health Technology Industry can be viewed at https://blackbookmarketresearch.newswire.com/news/new-technologies-revolutionize-mental-health-solutions-soaring-21354582
About Black Book
Black Book Market Research LLC, its founder, management and staff do not own or hold any financial interest in any of the vendors or public relations firms covered and encompassed in the surveys it conducts including Netsmart. Additionally, Black Book does not contract for, barter, exchange or accept direct services from any public relations firm mentioned in the rankings. Black Book reports the results of the collected satisfaction and client experience rankings in publication and to media prior to vendor/firm notification of rating results and does not solicit vendor/agency participation fees, review fees, inclusion or briefing charges, consultation requirements and/or vendor collaboration as Black Book polls' clients. Since 2010, Black Book Market Research LLC has polled the vendor and service firm satisfaction in the software/technology and managed services sectors around the globe.
For methodology, auditing, resources, comprehensive research and detailed results on the product and services rankings, see http://www.blackbookmarketresearch.com.
For more information, contact our survey team leaders at research@blackbookmarketresearch.com.
Source: Black Book Research
Share: