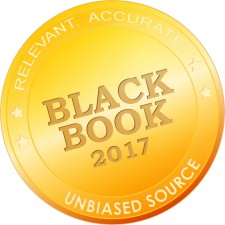 Invigorated Designs, Methodology Transparency & Quarterly Ranking Updates usher in a wave of innovations & accuracy in satisfaction polling
TAMPA, Fla., September 14, 2017 (Newswire.com) - Black Book™ today announced the launch of a new, redesigned version of its website, www.BlackBookMarketResearch.com.
Key features of the site include a cleaner and more attractive design, a more engaging user experience with enhanced search and navigation, and the capability to sell reports directly to health care technology and services research purchaser, many providers, hospitals, government agencies, payers, and pharma/biotech firms as well as provide gratis reports to survey participants.
Quarterly updates have been added for investors, banking analysts, fund managers, and venture capital needs.
The site's refreshed and simplified look, combined with enhanced content, improved search functionality, and optimization for mobile devices allows consumers to better interact with Black Book™ online.
Black Book Research's multi-layered health care information and services research, and vendor-agnostic, crowd-sourced survey techniques across all levels of the facilities. Only Black Book solicits software users all levels of the institution, expanding annually from relationships with professional organizations, medical associations, journal subscribers, membership groups, and event management among other methods to take our satisfaction polls.
The overwhelming industry disappointment from all the stakeholders Black Book heard from the health care IT industry between 2008 and 2013 was clearly from the user level and supervisory-of-user level staff. Where rarely more than 10.2% claimed they had any input into the selection of different vendors, and NEVER (0.4%) had any input or feedback in keeping the products not meeting user needs, or providing loyalty data back to surveyors or analysts.

In 2016, Black Book management made it a top priority to solicit, seek, invite and assist non-management staff into rating their clinical and medical systems, not only the Chief Information Officers and their direct clerical support to provide usable, vendor agnostic, unbiased feedback on HIT developers strengths and failings as these apply to their facilities.
"Black Book sought out eight years ago to identify and survey those IT services users in hospitals, managed care companies, physician offices, business centers, corporate offices, ancillaries, nursing, and operations management as an experiment to see how those satisfaction opinions differed from Chief Information Officers," said Brown. "Now we include these users in every comprehensive HIT, EHR, RCM and HIE product review."
Black Book has created refreshed mobile survey apps with over 240 surveys on going and 60 web-based surveys, which have collectively grown in participation by 1200% over the past two years and external validation process partners have placed the trust in the results enhanced by clinical and medical users, as evidenced by 93% of those non-CIO/non-IT Management staff surveyed in agreement.
"It only strengthens Black Book Research's goal to lead the transparency and thoroughness efforts in reporting health care information technology satisfaction and loyalty outcomes and a reasonable cost," added Brown.
Black Book Market Research invites visitors to explore its new website. The new website has been designed to offer the ultimate user-friendly experience with improved navigation and functionality while allowing customers to see the full product portfolio Black Book offers.
Created with the user experience in mind, the site includes many new features to help users to quickly and easily navigate the site and find the survey results they need. New features include:
Latest Industry Rankings, updated quarterly
2017-2018 Research Report Calendar
Link to the Product Report Store
Vendor Resource Tab for Award Honorees
In-depth review of Black Book's proprietary methodology & validation processes
Mobile device and web surveys
Smart Phone and Mobile device app links
Press Room and Social Media links
Gratis Reports and Directory Information to Vendors receiving qualified minimums of client responses
Visitors to the new site can stay informed with the latest Black Book™ health care technology and services industry news through the new online pressroom.
About Black Book
Black Book™, its founders, management, and staff do not own or hold any financial interest in any of the vendors covered and encompassed in the surveys it conducts. Black Book reports the results of the collected satisfaction and client experience rankings in publication and to media prior to vendor notification of rating results and does not solicit vendor participation fees, review fees, inclusion or briefing charges, and/or vendor collaboration as Black Book polls vendors' clients.
Silicon Review named Black Book Market Research also as a Top Ten Fastest Growing Healthcare Companies for 2017, and Corporate News named Black Book the Best Data Collection Company in the US (All Industries).
Since 2000, Black Book™ has polled the vendor satisfaction across over thirty industries in the software/technology and managed services sectors around the globe. In 2009, Black Book began polling the client experience of now over 590,000 health care software and services users. Black Book expanded its survey prowess and reputation of independent, unbiased crowd-sourced surveying to IT and health records professionals, physician practice administrators, nurses, financial leaders, executives and hospital information technology managers.
Black Book, its employees or staff own no financial or other interest in the companies that are included in our vendor ranking surveys. Black Book does not accept ranking inclusion fees, consultant services to improve rankings for vendors, or coach vendors in the process of gathering feedback.
For methodology, auditing, resources, comprehensive research and ranking data see www.blackbookmarketresearch.com or http://blackbookmarketresearch.com/pages.php?alias=download-our-survey-app
Source: Black Book Research
Share: