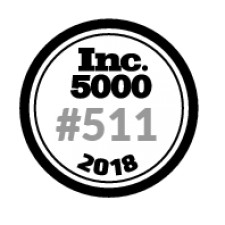 Black Book is ranked among the country's most dynamic businesses rising to #511 with 750% three-year growth
TAMPA, Fla., August 17, 2018 (Newswire.com) - Inc. Magazine has announced that Black Book Market Research LLC, a leading provider of healthcare industry research, has been ranked in 511th place on the 37th annual Inc. 5000, the most prestigious ranking of the nation's fastest-growing private companies. The list represents a unique look at the most successful companies within the American economy's most dynamic segment—its independent small businesses.  Last year, Black Book Market Research LLC entered the list at #601.
"To be on this list for the second time is very exciting and shows just how effective what we are doing is for the clients we serve," said Black Book CEO Doug Brown. "In the past three years, we've tripled our reach inside the healthcare industry, and we are continuing our expansion to other businesses who need industry competitive research, opinion mining and trend identification to grow their marketing reach."
Black Book Research was also honored by Inc. Media as Florida's 37th fastest growing private company and the 9th fastest growing in the Tampa/St. Petersburg/Clearwater metro area. Black Book was also the 38th fastest-growing private healthcare company nationally.
"This is Black Book's second time on the Inc. 5000, which is a truly extraordinary accomplishment," James Ledbetter, editor in chief of Inc. Media, said. "Making the list gets harder every year as your starting base grows. A mere one in three companies maintains their standing two times."
Not only have the companies on the 2018 Inc. 5000 been very competitive within their markets, the list as a whole shows staggering growth compared with prior lists. The 2018 Inc. 5000 achieved an astounding three-year average growth of 538.2 percent, and a median rate of 171.8 percent.
Black Book™ took the healthcare industry by storm in 2011 by introducing several novel survey methods to a segment of the industry that was at risk from a decline in relevancy. Black Book achievements include: 
▪ First to issue sweeping surveys to target technology and services solutions to industry problems and shun blanket vendor approval surveying;
▪ First healthcare surveying firm with mobile applications on multiple platforms to quickly poll  providers, payers, and first to embrace healthcare consumers in technology and system satisfaction;
▪ First to examine consumer preferences, expectations and demands of healthcare technology experiences through panel studies;
▪ First to utilize a contemporary "wisdom of crowds" methodology via large scale crowd-sourced surveying to include all levels of organizational system users; 
▪ First to focus multi-platform polling on corporate board of trustees and senior operations and financial executives to keep a pulse on broad organizational strategies, and steer away from the repetitive calling of survey-fatigued CIOs for technology usability insights;
▪ First to pledge independence from vendor influence by not having any financial investment, payment, sponsorship, commissions or fiscal relationships with vendors prior to surveying, and not accepting inclusion fees for evaluations, and
▪ First to place special focus on the neglected small and midmarket sized technology and outsourced services vendors as acquisitions and investments in healthcare technology skyrockets.
Complete results of the Inc. 5000, including company profiles and an interactive database that can be sorted by industry, region, and other criteria, can be found at https://www.inc.com/inc5000/index.html.
"If your company is on the Inc. 5000, it's unparalleled recognition of your years of hard work and sacrifice," says Inc. editor in chief James Ledbetter. "The lines of business may come and go, or come and stay. What doesn't change is the way entrepreneurs create and accelerate the forces that shape our lives."
About the Inc. 5000 Methodology
The 2018 Inc. 5000 is ranked according to percentage revenue growth when comparing 2014 and 2018. To qualify, companies must have been founded and generating revenue by March 31, 2014. They had to be U.S.-based, privately held, for profit, and independent—not subsidiaries or divisions of other companies—as of December 31, 2017. (Since then, a number of companies on the list have gone public or been acquired.) The minimum revenue required for 2014 is $100,000; the minimum for 2017 is $2 million. As always, Inc. reserves the right to decline applicants for subjective reasons. Companies on the Inc. 500 are featured in Inc.'s September issue. They represent the top tier of the Inc. 5000, which can be found at http://www.inc.com/inc5000.
About Black Book Market Research LLC
Black Book Market Research LLC, its founder, management, and staff do not own or hold any financial interest in any of the vendors, manufacturers, developers, nor consultant firms covered and encompassed in the surveys it conducts. Black Book reports the results of the collected satisfaction and client experience rankings in publication and to media before firm notification of rating results and does not solicit survey participation fees, review fees, inclusion or briefing charges, or involve consultant firm collaboration with Black Book before the announcement of the polling outcomes.
In 2009, Black Book began surveying the client experience of healthcare software and managed services users, as well as polling for trend identification, industry insights, and outcomes. Black Book expanded its survey prowess and reputation of independent, unbiased crowd-sourced surveying to technology professionals, physician practice administrators, clinicians, user level staff, financial leaders, executives and board members, investors, quality organizations, government agencies, and banking professionals.  Consultants and advisor satisfaction polls were first issued in 2011. In 2012, Black Book included payer organizations and insurers, and in 2015, launched panel surveying of healthcare consumers.
For Black Book vendor satisfaction rating methodology, auditing, resources, comprehensive research and ranking data see www.blackbookmarketresearch.com.
Source: Inc Magazine 5000
Share: