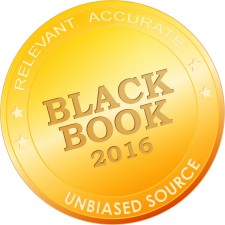 The newly launched satisfaction and loyalty polling apps promise rapid turnaround surveys and enhanced validation methodologies, along with a new approach to driving panelist and individual respondent engagement.
Tampa, Florida, August 19, 2016 (Newswire.com) - ​​​​​Black Book Research, the industry's most extensive satisfaction and loyalty surveyor of tech users, today announces the release of mobile survey and polling applications for IOS and Android. In addition to Black Book's online web surveys, panel interviews and call center conducted assessments, the firm added recent improvements in the choice of survey digital experiences to shed new light on the demands, preferences and recommendations of the all user levels among healthcare software products and services.
The Black Book mobile apps allow respondents to complete a short profiling survey, register for panels or future surveys, manage their profile and respond to eighteen qualitative key performance indicators on Accountable Care, Ambulatory Electronic Health Records, Analytics, Ancillary Department Systems, Decision Support, Coding, Financial Systems and Services, Health Information Exchange and Interoperability, Inpatient Electronic Health Records, IT Consultants, Mobile Health, Network Solutions, Nursing Applications, Outsourcing, Population Health, Practice Management, Privacy and Security and Telemedicine. Over 1,400 vendors are included in the survey apps with the option for respondents to write-in a vendor's name if it does not appear.
All users are invited to express their client experiences including executives, clinicians, physicians, front line staff and management, from Inpatient Hospitals, Hospital Chains and Corporations, Integrated Delivery Networks, Physician Practices, Payers and Health Insurers, Consultant Firms, Ancillary Providers, Pharmaceutical Firms, Biomedical and Life Science Companies, Medical Device Firms, Post Acute settings and Long Term Care Facilities.
"Since 2000, Black Book has been innovating with ways to target, attract, and retain certain key user demographics, especially those in clinical, medical and non-IT management roles," said Doug Brown, Managing Partner. "We believe that our mobile survey apps are the solution rating research clients have been looking for because it enables the timely engagement of survey-takers on mobile devices which certainly will lead to higher response rates from multiple levels of the client experience."
"Additionally, Black Book has the responsibility to the healthcare industry to deliver the highest level possible of independently verified data quality and survey fraud protection," said Brown.
For that reason, Black Book has selected TrueSample as the 2016-2017 external healthcare survey and sample validation guard for mobile app response verifications. TrueSample (Seattle, WA) offers API driven validation and verification solutions targeted to before, during, and after the research process to ensure maximum coverage at all times. TrueSample's compatibility with Black Book's sample source, survey platform, and real-time reporting capabilities provide unparalleled transparency and control to reduce potential fraud and manage overall data quality.
"Black Book's survey mobile app, available for iOS (on iTunes https://itunes.apple.com/us/app/black-book-healthcare-surveys/id1129233940?mt=8 ) and Android (on Google Play https://play.google.com/store/apps/details?id=com.blackbook.surveyapp ), offers panelists and survey participants access to surveys at a time, place, and on a device convenient for them, after completing a short profiling survey which opens the way for them to receive gratis copies of surveys once results are published," said Brown.
About Black Book™
Black Book Market Research LLC, provides healthcare IT users, media, investors, analysts, quality minded vendors, and prospective software system buyers, pharmaceutical manufacturers, and other interested sectors of the clinical technology industry with comprehensive comparison data of the industry's top respected and competitively performing technology vendors. The largest user opinion poll of its kind in healthcare IT, Black Book™ collects over 550,000 viewpoints on information technology and outsourced services vendor performance annually. Black Book was founded in 2000, is internationally recognized for over 15 years of customer satisfaction polling, particularly in technology, services, outsourcing and offshoring industries.
Black Book™, its founders, management and/or staff do not own or hold any financial interest in any of the vendors covered and encompassed in this survey, and Black Book reports the results of the collected satisfaction and client experience rankings in publication and to media prior to vendor notification of rating results. Follow Black Book on Twitter at http://www.twitter.com/blackbookpolls
For methodology, auditing, resources, comprehensive research and ranking data, seehttp://blackbookmarketresearch.com
Source: Black Book Market Research
Share: