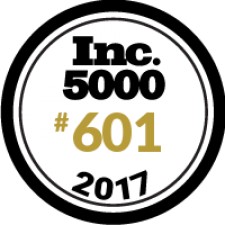 The healthcare industry's competitive research and survey innovation firm debuts at #601 with an astounding three-year sales growth of 750%
Palm Springs, CA, October 12, 2017 (Newswire.com) - Inc. Magazine today announced Black Book Research, recognized for its impartial polling of healthcare consumers, executives, technology users, payers, insurers, investors, physicians, hospitals and ancillary organizations, has been ranked No. 601 on the 36th Annual 2017 Inc. 5000; the most prestigious ranking of the nation's fastest-growing private companies.
"We seized the opportunity to improve the quality and value of healthcare delivery systems by addressing the way the industry was measuring and benchmarking the competitive performance of suppliers," said Doug Brown, CEO of Black Book. "We are very proud of our meteoric rise and the successes we make on behalf of all stakeholders, particularly consumers."
Black Book™ took the industry by storm in 2011 by introducing several novel survey methods to a segment of the industry that was at risk from a decline in relevancy. Black Book achievements include:
▪ First to issue sweeping surveys to target technology and services solutions to industry problems and shun basic vendor approval surveying;
▪ First healthcare surveying firm with mobile applications to quickly poll providers, payers, and users to embrace next generation users such as millennials;
▪ First to examine consumer preferences, expectations and demands of healthcare technology experiences through panel studies;
▪ First to utilize a contemporary "wisdom of crowds" methodology via large scale crowdsourced surveying of users;
▪ First to focus multi-platform polling on corporate board of trustees and senior operations and financial executives to keep a pulse on broad organizational strategies, and steer away from repetitive calling of survey-fatigued CIOs for technology usability insights;
▪ First to pledge independence from vendor influence by not having any financial investment, payment, sponsorship, or fiscal relationships with vendors prior to surveying, and not accepting inclusion fees for evaluations, and
▪ First to place special focus on the neglected small and midmarket sized technology and outsourced services vendors as acquisitions and investments in healthcare technology skyrockets.
Black Book™ has also received several other accolades in the previous 12 months including:
- Top Ten Fastest Growing Healthcare Companies by Silicon Review (Ranked #10)
- Best Data Collection Company in US by Corporate News (Ranked #1)
- Fastest Growing Florida Firms by Tampa Bay Times (Ranked #7 overall) for revenue growth in 2016
"It's an honor to be recognized by Inc. as one of the nation's fastest growing companies overall and in the very top tier of successful healthcare related businesses," commented Brown. "Our presence on the Inc. list and rate of growth are testaments to the value that stakeholders are placing on unbiased research in today's transforming healthcare industry."
Black Book Research and all honorees were recognized at the annual Inc. 5000 event being held October 10 through 12, 2017 at the JW Marriott Desert Springs Resort & Spa in Palm Desert, Calif.
For Black Book's ranking page,
visit https://www.inc.com/profile/black-book-research
For more on Black Book's methodology, rating, surveying and policy information, visit http://www.blackbookmarketresearch.com
Source: Black Book Research
Share: