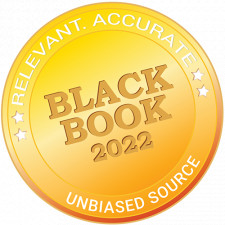 Seventy-one electronic medical record and healthcare information technology vendors were graded on meeting buyer expectations, achieving ROI, solving country-specific connectivity issues, and accomplishing patient data improvement goals.
TAMPA, Fla., September 19, 2022 (Newswire.com) - Black Book Research surveyed stakeholders and users of electronic health records and health IT support systems around the globe to assess the international expansion efforts of domestic core-EHR vendors and foreign corporates including start-ups.
Black Book's European office coordinated this year's sweeping survey process of twelve regions of the world resulting in 8,414 qualified responses from current HCIT customers. Responses provide insight into eighteen comprehensive key performance indicators evidencing progress and outcomes on technology effectiveness and usability.
The extensive 704-page research report is available at no charge to constituents by registering at the research firm's website, Extensive data points from user-revealed findings are detailed within the country profiles.
Polling was conducted Q1 through Q3 2022, and includes qualitative satisfaction data from system users in Canada, Mexico, Brazil, Colombia, Uruguay, Chile, Argentina, Peru, Ecuador, Bolivia, Germany, Switzerland, Austria, Italy, France, Ukraine, Poland, Czech Republic, Hungary, Slovakia, Denmark, Finland, Sweden, Belgium, Norway, South Africa, Ghana, Kenya, Nigeria, Australia, New Zealand, India, Singapore, Malaysia, China, Japan, South Korea, England, Ireland, Scotland, Saudi Arabia, Israel, and Turkey.
"The U.S. acute EHR market attained saturation prior to the pandemic, and the major vendors began shifting business development to international targets," said Doug Brown, Managing Partner of Black Book. "However, most US-centric HIT vendors have been unsuccessful at selling their core solutions due to a multitude of reasons: localization challenges, cultural and language translation problems, difficulties deposing established regional incumbents, aligning products to match complex government requirements, and implementing in-country management; all of which require more vendor investment."
Survey respondents include agency staff, administrators, IT directors, financial managers, clinical personnel and physicians that ranked the following vendors as the leaders in client satisfaction in their respective regions:
AFRICA - Oracle Cerner
AUSTRALIA, NEW ZEALAND - Altera Digital Health
BRAZIL - Everis
CANADA - Altera Digital Health
CHINA - Philips
EASTERN EUROPE - Asseco Group
FRANCE - Dedalus
GERMANY, SWITZERLAND, AUSTRIA - Deutsche Telekom iMedOne
INDIA - DocEngage
ITALY - CompuGroup Medical
JAPAN - NTT Docomo
MEXICO - HarmoniMD MedWave
MIDDLE EAST - Oracle Cerner
NORDICS & BENELUX - Cambio Healthcare
SOUTH KOREA - ezCaretech Bestcare
SOUTHEAST ASIA - Epic Systems
TURKEY - CompuGroup Medical
UNITED KINGDOM - Altera Digital Health
Black Book's IT user research also revealed notable regional trends occurring in 2022 highlighted by:
Between 2020 and 2022, dramatic changes and improvements occurred in the way data is documented, stored, viewed, retrieved, shared, managed, and consumed in Eastern Europe, India, and Southeast Asia where data privacy was identified as the primary concern by 96% of providers collectively surveyed.

Thirty-nine start-up healthcare IT suppliers abroad entered the market in 2022 with cutting-edge EHR technology and interoperability products since the 2021 polling, that are rising contenders to government medical records systems and international software vendors, over half with country-specific track records for industry offerings. Eastern Europe and Southeast Asia had the most new vendors in the 2022 survey.
As the need for practical and secure EHR increases worldwide, the spend in healthcare data management is projected to grow globally at a CAGR of 17.7% in the next five years.
"The lack of IT system uniformity in most countries often disrupts the information exchange between regional providers and is detrimental to the patients," said Brown. "It does, however, broaden the competitive possibilities and such states become prime target markets for adaptive EHR players."
One exception is Germany which implemented, in 2018, a nationwide network that enables secure data transmission among healthcare providers, connecting over 2.5 million healthcare professionals to 80 million citizens. On a broader scale, the European Union committed funds and helps its member states to exchange Electronic Health Records across the EU through the e-HDSI (e-Health Digital Service Infrastructure), expanding in 2023.
Provider survey respondents additionally revealed double-digit increases in expenditures for healthcare technology in Poland, Czechia, Austria, Mexico, Chile, Brazil, and India through 2025.
The survey methodology and full listing of healthcare consultant and advisory firm rankings can be found on Black Book's website — https://blackbookmarketresearch.com
About Black Book
Black Book Market Research LLC, its founder, management, and staff do not own or hold any financial interest in any of the consultants and advisory firms covered and encompassed in the surveys it conducts. 21 countries in some phase of national EHR adoption were included in the sweeping seven-month poll of EHR users on the respective infrastructure and adoption of their countries, as well as the EHR vendors receiving the highest satisfaction scores in those respective locations. Black Book™ carefully considers industry trends and real developments for identifying key growth factors and forecasted opportunities. The research processes are designed to deliver a balanced view of the global markets and allow stakeholders to make informed decisions to attain KPIs. Black Book™ offers clients extensive research and analysis based on a wide variety of factual inputs which largely include interviews with industry participants, reliable statistics, and regional intelligence. In-house industry experts play an instrumental role in collecting data that enhance the accuracy of Black Book's recommendations and advice. With a strong methodology Black Book™, therefore, is confident in the provided research and analysis that are most reliable and incorporates a blueprint for sound business planning.
For Black Book vendor satisfaction rating methodology, auditing, resources, comprehensive research, and ranking data, see www.blackbookmarketresearch.com.
Media may request press copies via research@blackbookmarketresearch.com.
Source: Black Book Research
Share: