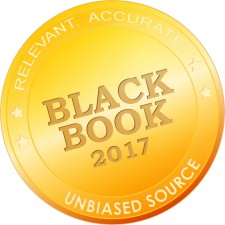 Tampa, Florida, February 8, 2017 (Newswire.com) - 1,435 electronic health record users including clinicians, chief information officers, physicians and IT support managers participated in the six month crowdsourced survey assessing five comprehensive EHR vendors installed at 440 unique academic teaching institutions and inpatient healthcare delivery sites.
Black Book included academic medical center campuses, affiliated teaching hospitals, inpatient facilities with residency programs and clinics. The top five rated companies rated on eighteen key performance indicators specific to instructional institutions were announced in the Black Book report today.
Cerner garnered the highest client experience and product satisfaction grades for end-to-end EHR solutions in inpatient academic facilities. Also included in the survey result set are Epic, Allscripts, McKesson and MEDITECH.
Detailed rankings and competitive analysis reports can be found at www.blackbookmarketresearch.com
About Black Book
Black Book™, its founders, management and staff do not own or hold any financial interest in any of the vendors or public relations firms covered and encompassed in the surveys it conducts.
Additionally, Black Book does not contract for, barter, exchange or accept direct services from any public relations firm mentioned in the rankings. Black Book reports the results of the collected satisfaction and client experience rankings in publication and to media prior to vendor/firm notification of rating results and does not solicit vendor/agency participation fees, review fees, inclusion or briefing charges, consultation requirements, and/or vendor collaboration as Black Book polls' clients.
Since 2000, Black Book™ has polled the vendor and service firm satisfaction across over thirty industries in the software/technology and managed services sectors around the globe. In 2009, Black Book began polling the client experience of now over 540,000 healthcare software and services users including public relations agencies and crisis management consultants. Black Book expanded its survey prowess and reputation of independent, unbiased crowd-sourced surveying to IT and health records professionals, physician practice administrators, nurses, financial leaders, executives and hospital information technology managers.
For methodology, auditing, resources, comprehensive research see: http://www.blackbookmarketresearch.com
Source: Black Book Research LLC
Share: