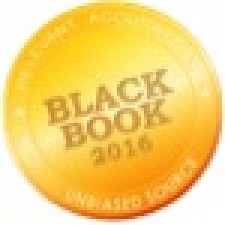 RCM is in current replacement mode or assessment by 85% of provider organizations, hospitals and physician practices. Seeking to optimize th
Tampa, Florida, September 21, 2016 (Newswire.com) - ​​Black Book™, well known for accurate, impartial customer satisfaction surveys in the services and software industries, conducted its annual revenue cycle management outsourcing and software/technology user polls to determine the highest ranked client experience vendors for 2016. As part of a special research focus on hospital, physicians, healthcare networks and corporate users, Black Book since 2012 surveyed the clients of RCM vendors to provide insight into their customer experience in the functional areas of Billing, Charge Capture, Mid Process Coding, Claims Management, Reimbursement, Insurance and Payer Management, Payment Resolution and Collections, and collectively for end-to-end RCM software/technology and outsourced managed services.
Black Book surveyed a gamut of over 5,000 management and user level RCM clients of the three main components of end-to-end revenue cycle: Patient Access Management, Health Information Processing and Post-Encounter Process to determine the top performing solutions vendors, as well as nearly 40 insights of value-based payment reform from the provider perspective. The full 2016 report is available at Black Book's website.
Black Book found that RCM transition activities in Q3 2016 are being coordinated through advisors and consultants at 29% of the nations' hospitals, the majority of those providers (71%) have not selected end-to-end technology vendors to move towards value-based reimbursements, contributing to the upsurge in outsourcing and bolt-on technologies as provisional solutions. 70% of medical group practices working with consultants on accountable care reimbursement strategies are considering outsourcing RCM in 2017 as they also evaluate technology vendors and estimate the financial brunt.
93% of health organization CFOs report they need to eliminate RCM, financial and coding technology vendors that are not producing a return on investment by end of year, up from 79% in Q4 2015. 94% of CFOs believe transformed revenue cycle management processes will allow them to become more efficient and positively impact their organization's financial health. Although 48% worry their organizational budgets will not allow them to acquire the end-to-end RCM system they most require in 2017.
"Outdated approaches to managing the revenue cycle are being forced to evolve as the lines between the providers' clinical and financial goals are blurring," said Doug Brown, Managing Partner of Black Book. "As reimbursements come under pressure and costs keep rising, provider CFOs will face unparalleled pressure over the next year to preserve financial solvency, increase productivities in care delivery, implement regulatory mandates and reduce RCM expenses associated with getting paid."
Healthcare providers spent over $10.3B in the twelve months ending June 2016 on combined end-to-end and bold-on RCM technology, software and outsourced services solutions. Black Book predictions based on provider feedback estimate that to rise to $11.9.0B by end of Q2 2018. Additionally, the shift to value-based reimbursement models is linking payments for care to clinical outcomes with over half of CMS total project payments of $600B linked to the model in 2018, while the burden of uncompensated care to hospitals is expected will be well over $60B.
Amidst the upheaval, 87% of self-determined profitable hospitals surveyed are keeping their revenue cycle management software and staff in-house to retain more control and because of their ongoing investment in training personnel and providing upgraded RCM technologies to attain the best ROI for their organization. Whereas the financially troubled hospitals seek a lesser expensive option for service levels defined for more moderate financial success, as well as an option to the frustration of changing regulatory requirements.
94% of hospitals are now deploying a complex mix of value based reimbursement and fee for service contracts in Q3 2016. 80% of hospitals have at least one risk based contract in place.
Still roughly a third (32%) of all US hospitals predicting they would replace their RCM solutions in 2016 have failed to initiate a sustainable end-to-end RCM plan, according to the survey results which fully address value-based payments.
"Healthcare providers will have no choice but to evaluate and optimize their RCM solutions end-to-end in a future state that leverages analytics and enhanced connectivity with payers, all keeping pace with the advances in healthcare technology," said Brown.
The highest ranked end-to-end RCM Software and Technology vendors for 2016 were ranked by client satisfaction and loyalty on 21 Black Book™ key performance indicators as follows:
Optum - Hospital Managed Systems Corporations/Systems/Integrated Delivery Networks and Chains (third consecutive year awarded)
Navicure – Small, Rural & Critical Access Hospitals Under 100 Beds
Advisory Board –Community Hospitals 101-200 Beds
ZirMed – Large Hospitals Over 200 Beds (fifth consecutive year awarded)
Other top ranked end-to-end RCM software and technology firms among surveyed hospitals includes: Cerner/Siemens, Conifer Health, Recondo Technology, Availity and Rycan.
The top ranked end-to-end RCM Outsourcing vendors for 2016 were identified as follows, also ranked by client satisfaction and loyalty on 21 Black Book™ key performance indicators:
Optum360 - Hospital Managed Systems Corporations/Systems/Networks and Chains (third consecutive year awarded)
nThrive (formerly MedAssets & Precyse) – Small & Hospitals Under 100 Beds
nThrive (formerly MedAssets & Precyse) – Community Hospitals 101-200 Beds
Conifer Health – Large Hospitals Over 200 Beds (fourth consecutive year awarded)
Other top ranked RCM end-to-end outsourcing firms among surveyed hospitals includes: Parallon Business Solutions, Cardon Outreach, Cerner/Siemens, McKesson RelayHealth, Availity, TruBridge, and Change Healthcare.
"As RCM transformation disruption accelerates, the top rated vendors are allowing providers access to the expertise to structure systems and processes that contribute to their unique financial imperatives and strategic goals," said Brown. "What was once considered a back office function just a few years ago, has evolved into a full end-to-end system that begins even before patient registration."
More results, methodology and survey processes can be obtained at www.blackbookmarketresearch.com
About Black Book
Black Book™, its founders, management and staff do not own or hold any financial interest in any of the vendors covered and encompassed in the surveys it conducts. Black Book reports the results of the collected satisfaction and client experience rankings in publication and to media prior to vendor notification of rating results and does not solicit vendor participation fees, review fees, inclusion or briefing charges, and/or vendor collaboration as Black Book polls vendors' clients
Since 2000, Black Book™ has polled the vendor satisfaction across over thirty industries in the software/technology and managed services sectors around the globe. In 2009, Black Book began polling the client experience of now over 540,000 healthcare software and services users. Black Book expanded its survey prowess and reputation of independent, unbiased crowd-sourced surveying to IT and health records professionals, physician practice administrators, nurses, financial leaders, executives and hospital information technology managers. Over 4,891 users participated in the 2016 polls of RCM client experience in a sweeping seven month set including eight separate studies. Additionally, 1,900 respondents that have not yet fully implemented or optimally using RCM outsourcing or technology provided insight on budgeting, adoption plans, factors driving RCM decisions and vendor awareness. 2,924 representatives of physician practices, groups and clinics, not affiliated with hospital system ownership also participated.
For methodology, auditing, resources, comprehensive research and ranking data see: http://www.blackbookmarketresearch.com
Source: Black Book Market Research
Share: