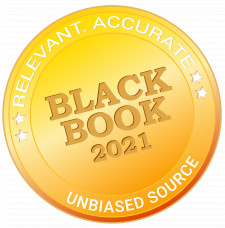 Growth in the clinical documentation market is expected to reach US$6.0B by 2023 with a 11% CAGR driven by mid-RCM artificial intelligence-supported solutions to reduce costs, manage unstructured data and check for billing and coding losses.
TAMPA, Fla., August 26, 2021 (Newswire.com) - Black Book Research surveyed 1,012 health information management executives and revealed that 58% of healthcare organizations are using artificial intelligence in one basic form or another, and 92% of them expect widespread industry implementation in the next five years, despite the extended operational constraints and financial priorities caused by the resurging COVID-19 pandemic. Eleven percent of survey respondent hospitals acknowledge employing AI-powered coding solutions proficiently for at least one year.
In this Q3 2021 survey by Black Book, 93% of 408 hospital coding and HIM respondents are optimistic that AI technology can streamline document creation and enable clinicians to capture a holistic patient history to boost outcomes but also improve revenue integrity.
An additional 625 provider respondents that have not yet fully implemented or are not optimally using AI-enhanced coding, CDI, speech recognition or transcription technology provided insight on budgeting, adoption plans, factors driving coding and transcription decisions and vendor awareness
One highly notable finding of the Black Book survey was that despite all U.S. hospitals, on average, experiencing 9.4% of payer claims denied upon initial submission in 2016, and 11.5% of payer claims denied upon initial submission this past quarter (Q2 2021), total payer claim denials among hospitals employing artificial intelligence coding solutions for at least one year experienced on average 6.9% of denials, or 40% fewer denials upon initial submission.
The collective results were culled from the current healthcare industry users of artificial intelligence tools and future AI users that participated in Black Book coding and HIM surveys in the current year:
Both commercial and public payers are now denying about one in every nine submitted claims, costing health systems over 3% of net patient revenue.
Health system coder productivity, in general, measured in Q3 2021 as compared to Q3 2017, has increased 60% in respondent hospitals over 250 beds.
Ninety-one percent of providers polled are eager to implement more sophisticated clinical documentation improvement tools that use artificial intelligence to boost the speed, accuracy and efficiency of coders. Sixty-four percent of HIM executives have retained committed funds to AI coding improvements in FY 2022.
The average case mix overall improvement in 169 hospitals surveyed between 150-450 beds accomplished an average $2.7 million in financial improvements from AI-enhanced CDI initiatives from Q3 2020 to Q3 2021 as reported by the survey respondents, an increase of 17% from the same period the previous year.
"Improvement of clinical documentation provides the opportunity to maximize reimbursement, and CDI is the process of enhancing medical data collection, improving quality of care while maximizing payer reimbursement income. It definitely has proven to maximize revenue cycle efficiency," said Doug Brown, Founder of Black Book Research.
"The good news for hospitals is that most of these claim denials are potentially avoidable with AI tools and prevention is the key to averting hospital revenue loss," said Brown. "Artificial intelligence has the potential to significantly impact how providers manage claim denials."
An impressive 97% of hospitals confirm documented quality improvements and increases in case mix index within six months of AI-enhanced CDI implementation.
Ninety percent of health systems' chief financial officers claim that the biggest motivator for adopting artificial intelligence coding support tools is to provide improvements in case mix index, resulting in increased revenues and the best possible utilization of high-value specialists in 2022 and beyond.
About Black Book
Black Book Market Research LLC, its founder, management and staff do not own or hold any financial interest in any of the EHR solutions vendors covered and encompassed in the surveys it conducts. Black Book reports the results of the collected satisfaction and client experience rankings in publication and to media before firm notification of rating results and does not solicit survey participation fees, review fees, inclusion or briefing charges, or involve consultant firm collaboration with Black Book before the announcement of the polling outcomes.
In 2009, Black Book began surveying the client experience of healthcare software and managed services users, as well as polling for trend identification, industry insights, and outcomes. Black Book expanded its survey prowess and reputation of independent, unbiased crowd-sourced surveying to technology professionals, physician practice administrators, clinicians, user-level staff, financial leaders, executives, and board members. Consultants and advisor satisfaction polls were first issued in 2011. In 2012, Black Book included payer organizations and insurers, and in 2015, launched panel surveying of healthcare consumers. Medical capital equipment ratings will be available starting in Q4 2021.
Frequently asked questions about Black Book's operations including recent reporting can be viewed at https://blackbookmarketresearch.com/FAQ and find history at https://thesiliconreview.com/magazine/profile/black-book-the-trusted-leader-of-influencer-market-research
For Black Book vendor satisfaction rating methodology, auditing, resources, comprehensive research and ranking data see www.blackbookmarketresearch.com or contact Research@BlackBookMarketResearch.com
Source: Black Book Research
Share: