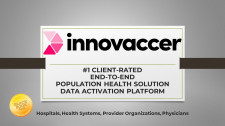 SAN FRANCISCO, January 31, 2022 (Newswire.com) - Black Book's intensive study of population health data activation platforms and data management systems included the input of technology, clinical and financial leaders in hospitals, physician organizations, ambulatory care and ancillaries, health systems and clinically integrated networks and rated on client experience by 2,160 participants in the crowdsourced survey from August 2021 to January 2022.
Ninety-one percent of healthcare IT leaders surveyed revealed their organizations are prioritizing data integration planning in 2022 and thirty-one percent have allocated funds to address the issue this budget year. In March 2020 at the start of the pandemic, two new rules were mandated to implement interoperability and patient access provisions of the 21st Century Cures Act. The rules promote FHIR as the foundational standard to support data exchange in healthcare putting provider IT users on alert.
According to provider organizations surveyed, their need for health data integration is driven by rising provider costs including locating and avoiding duplicate and unnecessary procedures (91%), the growing volume of healthcare consumer data (93%), consumer demand on providers for health results (95%), and gaps in clinical device connectivity (96%).
Despite the rising need to reduce healthcare expenditure by using advanced operational technologies, there remains significant concerns related to data privacy hampering global healthcare IT integration market growth according to 94% of technology executives polled.
"There is nothing more critical now to the successful delivery of patient-centered care than secure data delivered through seamless interoperability," said Doug Brown, President of Black Book Research.
Additional impediments to immediate data integration initiative for most providers according to survey respondents are the anticipated high cost of healthcare IT data integration (86%), integration of IT data sets among disparate IT and software companies (82%), and interface issues with core electronic health records and revenue cycle management vendors (37%).
Population health management technologies were scored on eighteen PHM centric key performance indicators including Strategic Alignment with Client Goals, Innovation and Risk Models, Client Relationships and Cultural Fit, Trust and Accountability, Deployment and Implementation, Interoperability, Reliability, Financial Viability and Managerial Stability, Customer Care Support, and Best-of-Breed Technology in the Q2 2021- Q1 2022 survey processes.
Black Book Research announced that San Francisco-based Innovaccer achieved the top honor for highest provider user experience and outcomes in the annual 2022 customer polls and competitive research of twenty data activation platforms, data integration and interoperability solutions. The IT leader achieved top client ratings across nine of eighteen key performance indicators including top cybersecurity and data privacy efforts, integration and interface execution, and quality client relationships and customer service.
The healthcare technology integration and data platform arena is expected to reach a global market size of USD $21 Billion by 2027 and convey a notably high 18.5% CAGR over the projected period, according to surveys by Black Book Research.
End-to-end provider Population Health Management Solutions included Data Integration Platforms, Data Aggregation and Analytics, Financial Costing and Bundling, Care Management, Risk Modeling, and Patient Outreach capabilities for software, services, and consultant firms. In the survey sets and polling, Black Book asked respondents to assess and score PHM vendor performance in the six functional components widely accepted as the essentials of Population Health Management:
Data Collection Aggregation, Storage and Patient Registries
Connectivity and Identification of Gaps in Care
Big Data Stratification and Risk Segmentation/Cost Metrics
Patient Engagement and External Data Acquisition
Care Team Coordination and Management, and
Outcomes Measurement, Reporting and Analytics
About Black Book
Black Book™, its founders, management and staff do not own or hold any financial interest in any of the vendors covered and encompassed in the surveys it conducts. Black Book reports the results of the collected satisfaction and client experience rankings in publication and to media prior to vendor notification of rating results and does not solicit vendor participation fees, review fees, inclusion or briefing charges, and/or vendor collaboration as Black Book polls vendors' clients.
Since 2004, Black Book™ has polled the vendor satisfaction across over 30 industries in the software and services sectors around the globe. Black Book's mission is to improve healthcare delivery by expanding the stakeholder's voice from the front-line employee, IT and financial managers, clinical and nursing staff through the C-Suite and Board, as well as healthcare consumers.
For methodology, auditing, resources, comprehensive research and ranking data see: http://www.blackbookmarketresearch.com Media contact research@blackbookmarketresearch.com
Source: Black Book Research
Share: