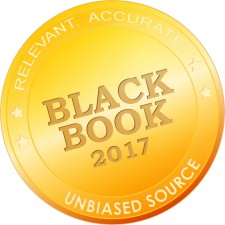 Movement toward patient-centric and value-based approaches is fueling the growth of infrastructure outsourcing.
TAMPA, Fla., September 27, 2017 (Newswire.com) - Black Book™ polled 1,587 users of IT outsourcing solutions to gather feedback on their confidence in partnering with outside contractors in health care organizations.
Survey respondents included 807 hospital chief information officers (CIOs) and IT departmental leaders as well as 89 chief financial officers and financial executives who contributed their perceptions on technology solutions and outsourcing services between March and August 2017. These respondents represented 244 hospital and inpatient organizations and 798 physician practices.
As health care organizations continue to embrace the "as-a-service" model for infrastructure, they are also becoming less satisfied with their outsourcing experience. Cerner Corporation was the top scoring electronic health record (EHR) vendor for end-to-end, complex IT outsourcing solutions categories in U.S. hospitals and physician groups.
The Black Book survey noted the decline in overall satisfaction results does not foreshadow a decline in outsourcing, only a stagnation in activity in 2017. Fifty-eight percent of the health care organizations responding said that they expect their usage of IT outsourcing will continue at current levels through 2019, and 34 percent anticipate an increase in IT outsourcing over the next two years.
Only seven vendors received "exceeding expectations" on all 18 Black Book key performance indicators from a field of 68 qualifying IT outsourcing partners. In contrast, respondents said 17 vendors, which were rated "superior" in 2015, were "slipping" in 2017.
While 41 percent of the CIOs and technology managers responding to the survey reported that their outsourcing partners "met expectations," 39 percent said their outsourcing experience had "fallen below expectations," and only 10 percent said their outsourcing vendor was "exceeding expectations." From this group, 10 percent responded they did not know or it was too soon in their outsourcing contracts to provide an opinion.
Additionally, 84 percent of respondents confirmed the increased efficiencies and reduced costs from outsourcing IT are transformative to their businesses. Outsourcing included through hosting mission-critical applications and patient data, including EHRs.
A record number of hospitals (82 percent) signed IT departmental outsourcing contracts since Q3 2016 or are in the process of a vendor selection.
The study found 11 percent of respondent hospitals said they no longer or do not outsource because of a desire to keep data on-premises, particularly intellectual property, to retain control over applications. Fifty-seven percent do not see infrastructure as "crucial to keep under their watch."
According to the Black Book survey, the most common outsourcing benefit sought by CIOs is reduced time spent on infrastructure. Congruously, the second benefit sought is the ability to focus on the health system's core business.
Other Survey Findings
• 83 percent of provider organizations with more than 100 beds have also placed complex IT outsourcing in their priorities to address by year end.
• Lack of funding for infrastructure for better and secured IT facilities are contributing to the growth of healthcare IT outsourcing.
• Outsourcing cybersecurity needs are the biggest demands as nearly 44 percent of hospitals and 35 percent of physician groups outsource all security applications needs in Q3 2017. A mix of in-house and outsourced security resources was reported by 69 percent of all providers in the survey set.
• The return-on-investment (81 percent) and immediate access to trained staff (73 percent) and needed technology (71 percent) are the primary motivators for outsourcing by hospitals and physician groups.
• 91 percent of hospital organizations reported in Q2 2017 that they were at or near a (6 months or less) return on their investment for IT outsourcing.
• 77 percent of the dissatisfaction came from IT managers who must manage a vendor with limited experience in hospital or physician practice IT outsourcing.
"Doing business with firms with insufficient health care experience that are not knowledgeable of current industry issues, such as compliance, cybersecurity, value-based revenue changes and interoperability, is extremely risky," said Doug Brown, managing partner of Black Book. "The successful client/vendor relationship depends that health care provider experience to ensure efficient connectivity between IT, clinical care and business workflows."
Cerner, MEDITECH and Allscripts scored among the top three IT managed services for healthcare provider organizations by EHR firms. Phoenix Health Systems, ICE Technologies, CGS, Infinite Outsourcing Solutions, IBM, NTT Data and CareTech Solutions scored among the top non-EHR centric IT outsourcing vendors.
About Black Book
Black Book™, its founders, management, and staff do not own or hold any financial interest in any of the vendors covered and encompassed in the surveys it conducts. Black Book reports the results of the collected satisfaction and client experience rankings in publication and to media prior to vendor notification of rating results and does not solicit vendor participation fees, review fees, inclusion or briefing charges, consultation requirements, and/or vendor collaboration as Black Book polls vendors' clients.
Since 2000, Black Book™ has polled the vendor satisfaction across over thirty industries in the software/technology and managed services sectors around the globe. In 2009, Black Book began polling the client experience of now over 590,000 health care software and services users. Black Book expanded its survey prowess and reputation of independent, unbiased crowd-sourced surveying to IT and health records professionals, physician practice administrators, nurses, financial leaders, executives and hospital information technology managers. For methodology, auditing, resources, comprehensive research and Outsourced Information Technology vendor ranking data, see http://www.blackbookmarketresearch.com
Source: Black Book Research
Share: