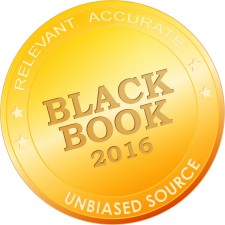 Seventy-six percent of physician practices with more than 25 clinicians surveyed are keen to apply their EHR enhancements in functionality, service and value-based payment innovation as of Q2 2016. 1,788 multispecialty Clinics, IPAs and large group practice leaders narrowed down an elite group based on eighteen delving key performance indicators from a shrinking field of less than 50 qualified electronic health record systems.
Tampa, Florida, June 6, 2016 (Newswire.com) - The annual Black Book™ ambulatory EHR user satisfaction poll sorted by sizable practice groups over eleven clinicians, inclusive of 44 medical and surgical specialties, unveils increased satisfaction and demand for integrated practice management, revenue cycle management and EHR usability. The Black Book poll indicates a sharp upward trend in the way users view the efforts of their vendors in all surveyed areas of measurable system satisfaction and loyalty in 2016, except interoperability.
"The nature of integrated EHR functionality and practice management is also changing, given that Medicare and commercial payers are endeavoring on the shift away from pay-per-procedure billing to paying for value incentives for providing better care efficiently," said Doug Brown, Managing Partner of Black Book. "Notably, leading-edge EHR are supporting large group medical practices with multiple specialties and multiple locations real-time insights and flexible technology to help drive successful accountable care organizations."
In 2013, 92 percent of multispecialty groups expressed displeasure with their EHR products and vendors, the survey results say, but that number had reversed in 2015 and increased more this year. Eighty-four percent of physicians practices over 25 practitioners polled this year believe that their vendor is "meeting or exceeding" their expectations for EHR optimization. Eighty-eight percent of administrative staff also believe they have seen improvements in the operational or financial capabilities of their practice management and EHR software.
As part of a special research focus on large practice physician EHR users, Black Book surveyed the clients of EHR vendors with the highest scores in customer experience in the areas of Document Management, Productivity, Practice Administration, Reporting, Interoperability and Order Entry and Decision Support.
"Smaller practices are disadvantaged in terms of health IT resources, and expected to merge or form joint ventures to meet the challenge of value-based care and acquiring the IT infrastructure needed to support it," said Brown. "Black Book expects that most small- and medium-sized practices will eventually join larger organizations, such as independent practice associations (IPAs), accountable care organizations (ACOs), and bigger medical groups to be successful under MACRA."
Black Book announces the three vendors ranking highest in large group practice overall satisfaction and client loyalty for 2016:
Allscripts: Group Practices 26-99 Physicians, Group Practices over 100 Physicians, and Independent Practice Associations
Marshield Clinic Information Services (MCIS): Multispecialty Clinics
athenahealth: Group Practices 11-25 Physicians
Allscripts took the top spot in user satisfaction among ambulatory providers for largest group member practitioners, squeezing past Cerner, athenahealth, MCIS, Epic Systems, eClinicalworks, and QSI NextGen. This is the third year in a row that Allscripts has been ranked number one among provider groups with 26-plus practitioners and independent practice associations.
athenahealth has also earned their third consecutive top rankings in the 6-10 physician group and 11-25 physician practice group categories.
This is the first year MCIS , a wholly-owned subsidiary of Marshfield Clinic (Wisconsin) has scored first in the Black Book polls, ranking first among users in multispecialty clinics operating with over three distinct medical and/or surgical specialties.
"Allscripts, MCIS and athenahealth have all made significant investments in user experience and client satisfaction over the past year, securing their places at the top of the group practice EHR most wanted list," said Brown.
Sixty-nine percent of providers who use electronic health records from these three companies agree that they have seen substantial clinical workflow enhancements since 2014, while 60% of surveyed users say that their data-driven vendors have adequately invested in population health management features that will aid their ongoing transition to value-based care.
"Users of these systems stated that uptick was due to vendor investments in updates and releases, practice assessments and clinical workflow enhancement," said Brown. Other factors included revenue cycle management and analytics value adds, population health improvements and solicitation of physician feedback.
Yet lack of interoperability with payers and other providers continues to impact 33% of providers using systems with poor connectivity records. "Vendor transparency and accountability concerns are challenging clinics and practices to re-evaluate their technology relationships again," said Brown. "For clients financially and contractually trapped in their EHR vendor relationship, middleware is gaining more attention and favor over regional and public HIEs as middleware offers trustworthy service delivery and innovative interoperability to support providers through reimbursement reforms."
Issues also still persist in large group practices as 29% of users say their vendors have failed to make major efforts to improve complex implementation and training process. Ninety percent reported a negative opinion on the ability to receive adequate customer service from offshore call centers and EHR tech support, impacting client loyalty significantly.
"EHR firms with a wide offering of products including health information exchange, population health tools, revenue cycle management services, patient portals, dashboards and analytics are emerging as the next wave of healthcare technology leaders," added Brown. "These leading vendors are assisting their clients in assessing current practice operations to meet the demands of ICD-10, payment reform, connectivity beyond closed networks, revenue cycle management gaps, and decision support tools, and recommending effective options within the same vendor suite."
More results and survey methodology may be found at http://www.blackbookmarketresearch.com.
About Black Book
Black Book™, its founders, management and staff do not own or hold any financial interest in any of the vendors covered and encompassed in the surveys it conducts. Black Book reports the results of the collected satisfaction and client experience rankings in publication and to media prior to vendor notification of rating results and does not solicit vendor participation fees, review fees, inclusion or briefing charges, and/or vendor collaboration as Black Book polls vendors' clients.
Since 2000, Black Book™ has polled the vendor satisfaction across over thirty industries in the software and services sectors around the globe. In 2009, Black Book began polling the client experience, of over 500,000 current healthcare software and managed services users. Black Book expanded its survey prowess and reputation of independent, unbiased crowdsourced surveying to electronic healthcare records professionals, physician practice administrators, and hospital information technology managers.
Over 33,000 EHR users participated in the 2016 polls of client experience in a sweeping five month study. Additionally, 2,500 study participants that have not yet fully implemented or using enterprise electronic health records provided insight on budgeting, adoption plans, factors driving EHR decisions and vendor awareness.
Black Book provides EHR/EMR users, media, investors, analysts, quality minded vendors, and prospective software system buyers, pharmaceutical manufacturers, and other interested sectors of the clinical technology industry with comprehensive comparison data of the industry's top respected and competitively performing technology vendors. Black Book employs in depth key performance indicators targeted at ensuring high product and service performance through comparing vendors from the customer experience.
Source: Black Book Market Research
Share: