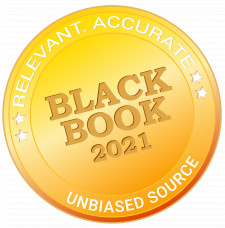 TAMPA, Fla., April 1, 2021 (Newswire.com) - Black Book Market Research LLC received survey responses from 2,420 behavioral health clinicians and professionals from 2,281 provider sites to determine the vendors outperforming in client satisfaction and user experience in the evolving mental healthcare IT niche.
A growing mix of 137 vendors offering behavioral health support services, core products and solutions, software, consulting and outsourcing received user feedback including large IT companies, mid and small vendors, and startups in the polling period Q4 2020 to Q1 2021.
"Most mental healthcare practitioners and administrators have no choice but to leverage next-generation system tools and solutions in order to stay solvent and improve provider connectivity to successfully enter the transition phases of value-based care," said Doug Brown, President of Black Book™. "The threat landscape in mental healthcare has also become fertile ground for malware, ransomware, breached medical records and patient privacy, phishing expeditions and cyberattacks with the COVID-era adoption of telementalhealth and remote patient monitoring in particular."
"Given the complexities of each individual health system and physician organization, implementing the right behavioral health software and solutions in delicate sequence is crucial as to not create an even more adverse situation through the transition," said Brown.
The pandemic has also generated a tremendous amount of patient medical data stored by local, state and federal government agencies, consumer-collected mental health data, telehealth visits, as well as inpatient provider organizations which has seen an increase in malicious IT attacks permitted through less-secure technologies and interoperability connections."
Black Book™ announces the top-performing behavioral health software and services vendors as ranked by customer satisfaction on 18 client experience-based key performance indicators in multiple categories of tools and solutions. Black Book Market Research LLC conducts polls and surveys with healthcare executives and front-line users about their current technology and services partners and awards top-performing vendors based on performance-based on qualitative indicators of client experience and solution/service satisfaction and three indicators of customer loyalty.
Client users designated the top-performing behavioral health and mental healthcare industry vendors in the sweeping user survey:
Ambulatory Behavioral Health Electronic Health Records (Order Management, Charting, Electronic Prescribing, Patient Portal)- Netsmart
Behavioral Health Practice Management (Patient Registration, Patient Scheduling, Resource Utilization, Insurance and Billing) - Netsmart
Telementalhealth - Adaptive Telehealth
Care Coordination Solutions - Appriss Health
Inpatient Psychiatry - ICA Notes
Mental Health Patient Privacy - Fairwarning
Secure Provider Communications Platform - Spok
Outsourced Behavioral Health Billing & Claims Management Services - Theranest
Population Behavioral Health, Analytics & Integration Engines - Tridiuum
About Black Book Research
Black Book Market Research LLC, its founder, management and staff do not own or hold any financial interest in any of the vendors covered and encompassed in the surveys it conducts. Black Book reports the results of the collected satisfaction and client experience rankings in publication and to media prior to vendor notification of rating results and does not solicit vendor participation fees, review fees, inclusion or briefing charges and/or vendor collaboration as Black Book polls vendors' clients.
In 2009, Black Book began polling the healthcare user and client experience of now over 800,000 healthcare software and services users. Black Book expanded its survey prowess and reputation of independent, unbiased crowd-sourced surveying to IT and health records professionals, physician practice administrators, nurses, financial leaders, executives and hospital information technology managers. Behavioral Health services and products satisfaction and client experience polling was exclusively initiated in the healthcare industry in 2014 by Black Book Market Research LLC.
Contact research@blackbookmarketresearch.com or 800.863.7590 for additional information or survey copies.
Source: Black Book Research
Share: