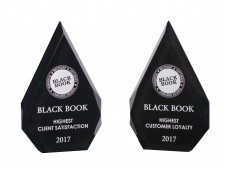 The implementation of ICD 10 in the rearview mirror, latest survey discloses the appeal of outsourcing coding and CDI has only increased.
TAMPA, Fla., October 4, 2017 (Newswire.com) - Black Book™ conducted its annual coding management outsourcing and CDI software/technology user polls to determine the highest ranked client experience vendors for 2017. As part of a special research focus on hospitals, physician practice, healthcare networks and corporate users, Black Book surveyed the clients of CA, HIM and CDI vendors with the highest scores in customer experience. 1,277 respondents from 220 hospitals and 789 physician groups participated in the four-month crowdsourced polling.
Findings include:
74 percent of clients confirm that outsourcing is contributing to coding accuracy ratcheting up since ICD10 implementation.
85 percent of CAC and CDI outsourcing confirm quality improvements and increases in the case mix index.
70 percent of outsourcing clients loyal to their vendors anticipate extending current outsourcing contracts into 2020. 92 percent of currently outsourcing clients expressed satisfaction and experience outcomes that exceed expectations with their current CAC, CDI and HIM vendors.
20 percent of hospitals have indicated they are seriously considering the outsourcing of an end-to-end HIM, CAC, CDI, transcription solution from a single vendor in 2018, up from 11 percent pre-ICD10 implementation.
90 vendors were evaluated on 18 key performance indicators across four functional areas of coding support and outsourcing. The No.1 ranked vendors for 2017 were identified as follows:
Optum360 – Outsourced Provider Coding (Hospitals/Inpatient and Physicians/Ambulatory Care)
M*Modal – Transcription Solutions Outsourcing (Hospitals/Inpatient and Physicians/Ambulatory Care)
About Black Book
Black Book™, its founders, management and staff do not own or hold any financial interest in any of the vendors covered and encompassed in the surveys it conducts. Black Book reports the results of the collected satisfaction and client experience rankings in publication and to media prior to vendor notification of rating results and does not solicit vendor participation fees, review fees, inclusion or briefing charges, and/or vendor collaboration as Black Book polls vendors' clients. Vendors are not aware of their ranking status until the results are published and public/media has been alerted first.
For methodology, auditing, resources, comprehensive research and ranking data see: http://www.blackbookmarketresearch.com
Source: Black Book Research
Share: