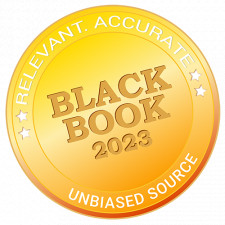 Health plan executives rated dozens of vendors on 18 key performance indicators across 28 payer operational areas in the sweeping annual user satisfaction survey.
TAMPA, Fla., June 15, 2023 (Newswire.com) - Black Book Research announced the top-performing IT companies within various market segments based on the industry's largest client survey of managed care organizations.
Black Book, the premier source of unbiased, crowdsourced, competitive intelligence, and buyer opinion mining serving the healthcare industry's technology and outsourcing sectors, name the 2023 awards for highest health plan user experience and client satisfaction.
"Black Book is committed to innovative research, customer fulfillment, loyalty polling, and analysis of the strategic buyer issues in the managed care marketplace free from the influence or financial affiliations of vendors," said Doug Brown, President of the firm. "It is an exciting time at Black Book, as our team is introducing unrivaled user experience surveying tools, the industry's most robust client satisfaction database, innovative reporting functionalities, and a knowledge management system that enables customers to share relevant, informed feedback in real time."
Neither Black Book, its founders, owners nor its employees hold any financial interest in the companies contained in any comparison performance report and is not incentivized or compensated to recommend any of the 12,000 healthcare industry products, systems, managed services, consultants, manufacturers or software vendors graded by a million actual client users for over a decade.
Over 2,400 health plan users participated in the crowdsourced polling between January and June this year. Vendors are rated on 18 key performance indicators specific to health insurance and managed care firms. The comprehensive methodology and category ratings can be reviewed at https://blackbookmarketresearch.com/health-plans-payers.
The top client-rated vendors serving the payer industry are:
PAYER INFORMATION TECHNOLOGY CONSULTANTS & ADVISORS
KPMG
__________
EMPLOYER-SPONSORED HEALTHCARE SOLUTIONS
Premise Health
__________
PAYER VALUE-BASED ANALYTICS & PERFORMANCE REPORTING
MedeAnalytics
__________
HEALTH PLAN CHART INTEGRATION & DATA EXCHANGE
Veradigm
__________
PAYER SYSTEM INTEGRATION SOLUTIONS
Tegria
__________
MANAGED CARE CONSUMER ENGAGEMENT PORTALS
Instamed
__________
PROVIDER-SPONSORED HEALTH PLAN CLAIMS SOLUTIONS
Evolent Provider-Sponsored Plan Solutions
__________
MSSP & CLOUD SECURITY SOLUTIONS
ClearData
__________
PRICE TRANSPARENCY & PATIENT PAYMENT ESTIMATE SOLUTIONS
Change Healthcare True View
__________
END-TO-END PAYER REVENUE CYCLE MANAGEMENT OUTSOURCING
Optum
__________
PAYER CLOUD PLATFORM SOLUTIONS
Inovalon
__________
MEMBER ENGAGEMENT SOLUTIONS
Best Buy Health
__________
PAYER DATA ACTIVATION PLATFORM
Innovaccer
__________
PAYER ANALYTICS OUTSOURCING
Optum
__________
PAYER MARKET INTELLIGENCE SOLUTIONS
IQVIA
__________
END-TO-END PAYER POPULATION HEALTH MANAGEMENT SUPPORT SOLUTIONS
Sagility Health
__________
CARE MANAGEMENT & COORDINATION SOLUTIONS
Cedar Gate Technologies
__________
QUALITY ANALYTICS SOFTWARE
Milliman
__________
PAYER IT MANAGEMENT CONSULTANTS
KPMG
__________
RISK ADJUSTMENT SOLUTIONS
EXL
__________
CLAIMS MANAGEMENT PLATFORM
Cognizant Technology Solutions
__________
PAYER APPLICATIONS DEVELOPMENT & MOBILE SOLUTIONS OUTSOURCING
CGI
__________
PAYER VALUE-BASED CARE, NETWORK DEVELOPMENT & CONTRACTING MANAGED SERVICES
Cedar Gate Technologies
__________
MEMBER & CONSUMER EDUCATION SOLUTIONS
Wolters Kluwer
__________
MEMBER SERVICES INTERFACE & CONSUMER EXPERIENCE SOLUTIONS
Alorica
__________
INFRASTRUCTURE & CORE IT MODERNIZATION SERVICES
NTT Data
__________
BACK & MIDDLE OFFICE BUSINESS PROCESS OUTSOURCING
GEBBS
__________
PAYER BIG DATA MANAGEMENT & WAREHOUSING SOLUTIONS
Citius Tech
__________
About Black Book
Black Book™, its founder, management, and staff do not own or hold any financial interest in any of the vendors covered and encompassed in the vendor satisfaction surveys it conducts. Black Book reports the results of the collected satisfaction and client experience rankings in publication and to media prior to vendor notification of rating results and does not solicit vendor participation fees, review fees, inclusion or briefing charges, consultation requirements and/or vendor collaboration, as Black Book directly polls vendors' clients.
Black Book™ has polled for vendor satisfaction and industry trends across the healthcare software, technology, and outsourcing sectors around the globe. Since 2010, Black Book began polling the client experience of now over 1.2 million healthcare software and services users. Black Book expanded its survey prowess and reputation of independent, unbiased crowdsourced surveying to IT, clinical, operations, and financial professionals, physician practice administrators, nurses, consultants, executives, and hospital information technology managers.
Source: Black Book Research
Share: