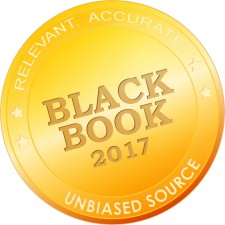 TAMPA, Fla., September 29, 2017 (Newswire.com) - ​Healthcare providers and payers attempting digital transformation and seeking innovation participated in the 2017 Emerging Vendors user survey. Those that stand out do so because they offer some disruptive capability or opportunity and received top scores in the Black Book Indicators of positive client experiences. In the current environment of replacement mode, required regulatory change and reimbursement shifts, healthcare CIOs are at a disadvantage in trying to maintain the pace.
"Rising vendors want to stand out to be noticed, but they also want to take a lead in high growth technology sectors," said Doug Brown, Managing Partner of Black Book. "In-demand healthcare solutions, advisory firms and innovative managed services firms are infused with enthusiastic client bases and developers again after these past couples years of IT implementation fatigue system-wide."
Black Book awarded the top fifty customer satisfaction rated vendors, each in their debut year on the crowdsourced polls for specific categories of products and tech services. Many new vendors along with well-established firms address the varying needs for solutions with inventive product and service lines. The fifty top rated solutions in categories not previously collected in the prior calendar year surveys are recognized for their meteoric rise. Nearly 1,493 client recommendations were included.
Black Book™, its founders, management and staff do not own or hold any financial interest in any of the vendors covered and encompassed in the surveys it conducts. Black Book reports the results of the collected satisfaction and client experience rankings in publication and to media prior to vendor notification of rating results and does not solicit vendor participation fees, review fees, inclusion or briefing charges, consultation requirements, and/or vendor collaboration as Black Book polls vendors' clients.
In alphabetical order, the top emerging vendors include:
athenahealth – Physician Practice Management
ATOS – IT Outsourcing
Availity – Revenue Cycle Management Solutions
CareCloud – Practice Management
CareStream – Imaging Management
CDW – Clinical Mobility
Corepoint – Interoperability and Integration Tools
CoverMyMeds – Prior Authorization Tools
Cylance – Cybersecurity Solutions
Dimension Insight – Healthcare Business Intelligence Tools
ELLKAY – Interoperability Solutions
Enli – Care Coordination Tools
ExtraHop – Healthcare Data Security Solutions
FireEye – Cybersecurity Solutions
Fortinet – Healthcare Cybersecurity
Geneia – Value Based Care Solutions
HealthLoop – Patient Engagement Solutions
Imprivata – Healthcare IT Security Solutions
Informatica – Big Data Management Solutions
InstaMed – Payment & Clearinghouse Solutions
InTouch Health – Telehealth Solutions
Jvion – Predictive Analytics
KPMG – Value Based Care Advisory
Lexmark – Enterprise Content Management
M*Modal – Clinical Documentation Solutions
Modernizing Medicine – Ambulatory EHR Specialties
Navicure – Revenue Cycle Management Solutions
NaviHealth – Care Transition Solutions
NetSmart – Post Acute Care Solutions & Behavioral Health Solutions
OneView - Patient Engagement Solutions
OnPage – Mobile Healthcare Communications
Oxford Healthcare – IT Advisory
PatientKeeper – Physician Practice Digital Applications
PatientSafe – Clinical Communications
PokitDoc – Clearinghouse & Blockchain Solutions
QLIK – Healthcare Data Analytics
QualComm Life – Mobile Healthcare Connectivity Solutions
Quammen – Healthcare IT Consulting
Qvera – Interoperability and Interface Solutions
SalesForce.com – Healthcare CRM
SPH Analytics – Physician Analytics Platform
Stoltenberg Consulting – Strategic IT Consulting
StrataDecision – Financial Planning Solutions
Talix – Coding Solutions
Taylor Healthcare – Documentation Automation
Teladoc – Telemedicine Solutions
VIgiLanz – Enterprise Intelligence Solutions
Virtual Health – Value Based Care Solutions
VitalWare – Clinical Documentation Improvement
ZeOmega – Population Health Solutions
About Black Book
Since 2000, Black Book™ has polled the vendor satisfaction across over thirty industries in the software/technology and managed services sectors around the globe. In 2009, Black Book began polling the client experience of now over 590,000 healthcare software and services users. Black Book expanded its survey prowess and reputation of independent, unbiased crowd-sourced surveying to IT and health records professionals, physician practice administrators, nurses, financial leaders, executives and hospital information technology managers.
For methodology, auditing, resources, comprehensive research and ranking data, see: http://www.blackbookmarketresearch.com
Source: Black Book Research
Share: